Brights Flag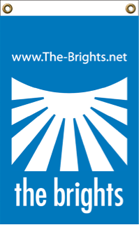 BC has over time received a smattering of earnest requests that a banner of "sports flag size" be offered on the merchandise page. Based on feedback (and a helpful Brights' donating so a more appropriate size could be acquired), we have acquired an allotment of flags.
We have learned that postage to send the item outside the USA is $10.20, so if you are ordering from another nation, please add $10 to help defray that amount. Thank you!

Brights Flag (1 or more): This item is no longer for sale. Thank you for your interest.