Expressions and Illuminations
When depicting and/or living out a worldview free of supernaturalism, Brights may be as inventive as they are individualistic. These presentations show an array of ways that Brights, in responding to the movement, indicate their optimism.
Inspired by The Brights' Icon
Bright Halloween Pumpkin by Robyn from Oregon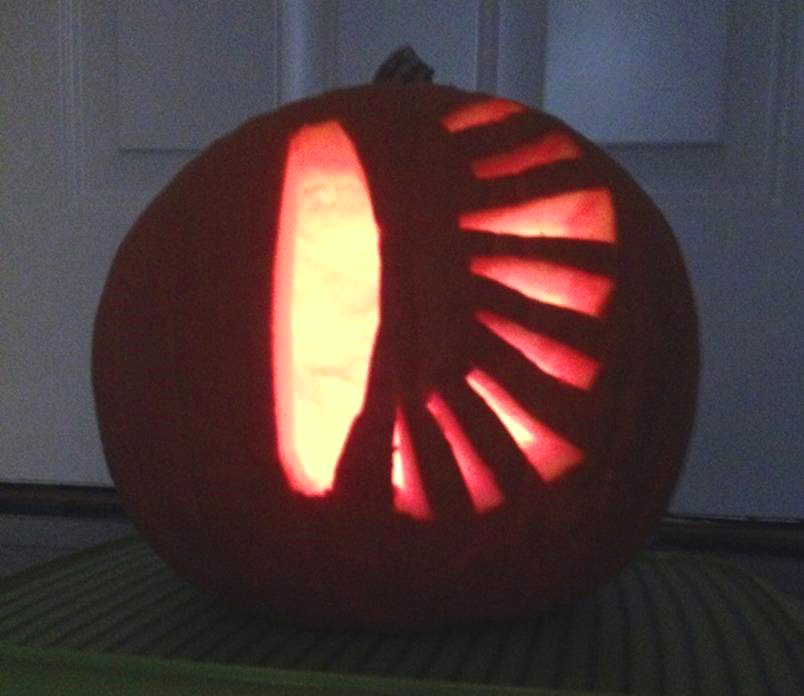 Happy Solstice Banner by Julie & John
This banner was created by Julie and John to celebrate the 2009 Solstice season. Click for a larger image!
Art and Interpretation by Marcos Carvalho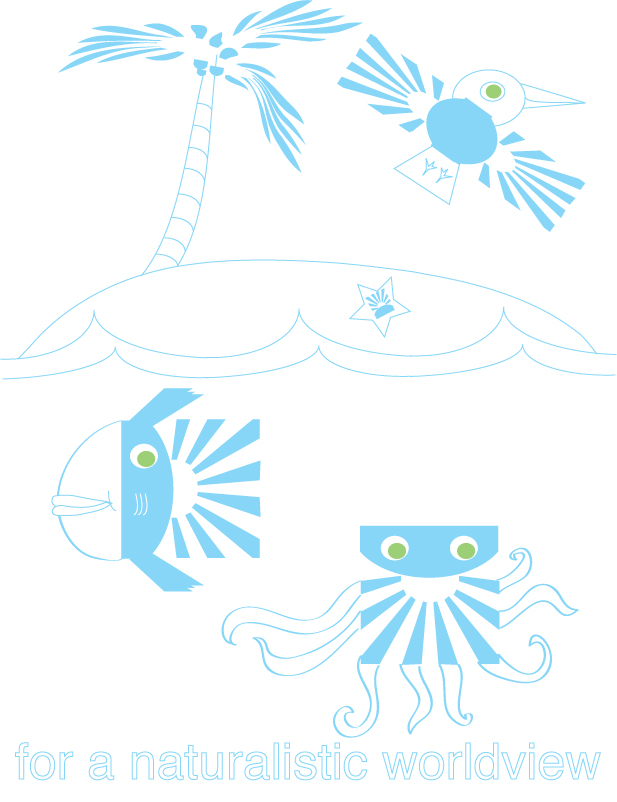 Here is a drawing I made inspired by the Brights' message and design... I played around with the Brights logo to create something positive and attractive. The words "for a naturalist worldview" could even end with "put on your Brights goggles, or remove your superstitious goggles" but I just left "for a naturalist worldview" by itself, I think it says it all, no?
"Thrashin' Jack Goes Bright!" by Jeff Stilwell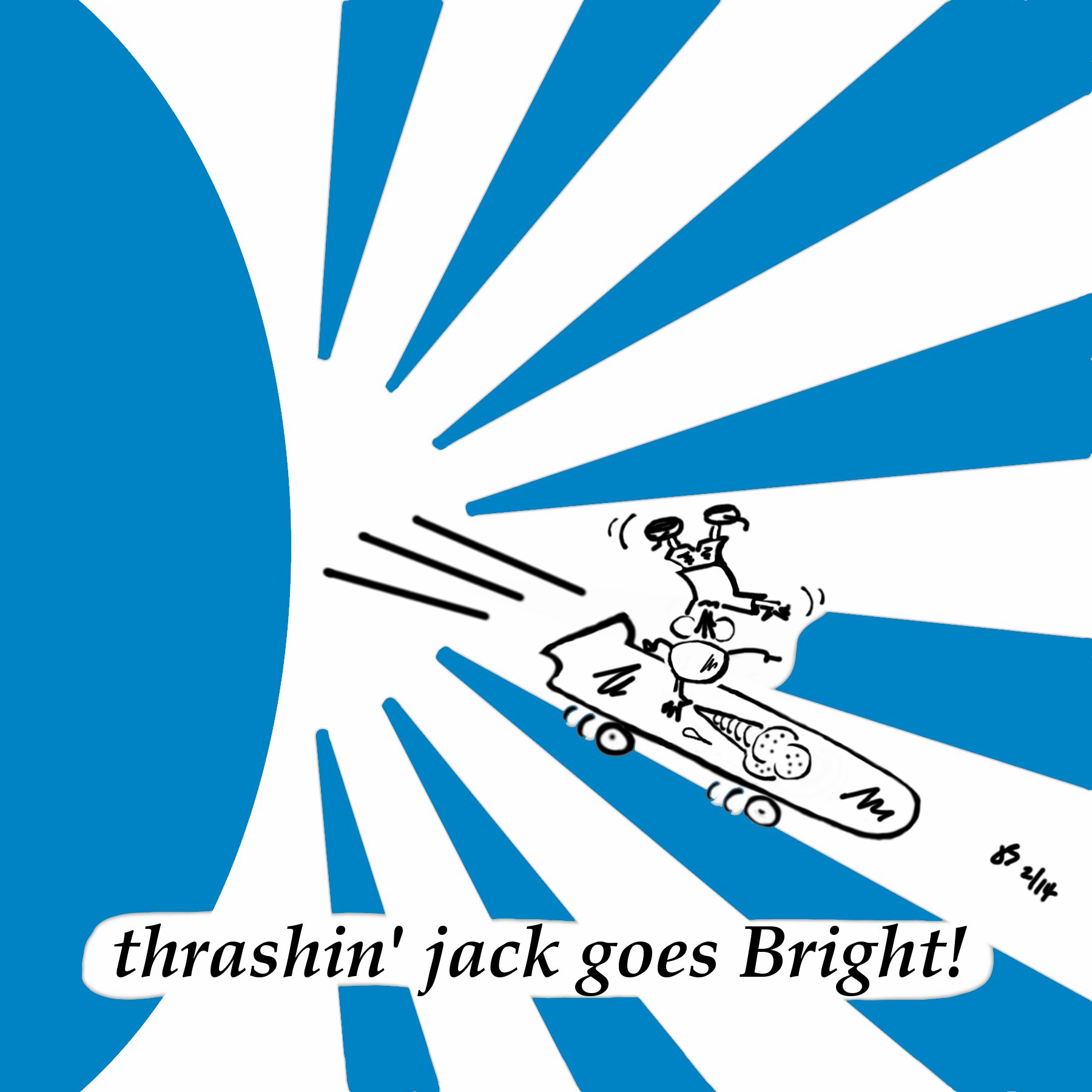 Family's Campsite Sign
The signs are made of metal using a plasma cutter, hung on a shepherd's hook and backlit with a tea light.
Art and Interpretation by Sylvain Magne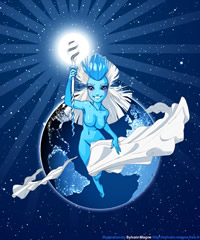 --The blue character symbolises the "racial neutrality" of the brights
--The female symbolises the birth of a new era
--The stick has the shape of a double helix symbol of the DNA and evolution
--The light from the stick represents knowledge (and science) enlightening the world
--The lights on the planet earth represents the brights themselves all around the world
--The sheet represents care for the blue planet



Jason's metallicized rendition of the Brights' logo
Art
Into Brightness
by Charlotte Carney

My Bright Perspective
by Charlotte Carney

(original in acrylic)
Calligraphy by Johnny from Southern California
Body Art
Steve presents the Brights' icon as interpreted by Addictive Ink in Albuquerque, NM U.S.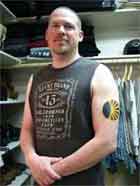 Jordin presents the Brights' icon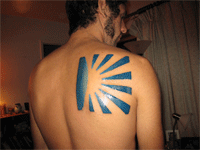 Jarick presents the Brights' icon
Car Art
Nat of Logan, UT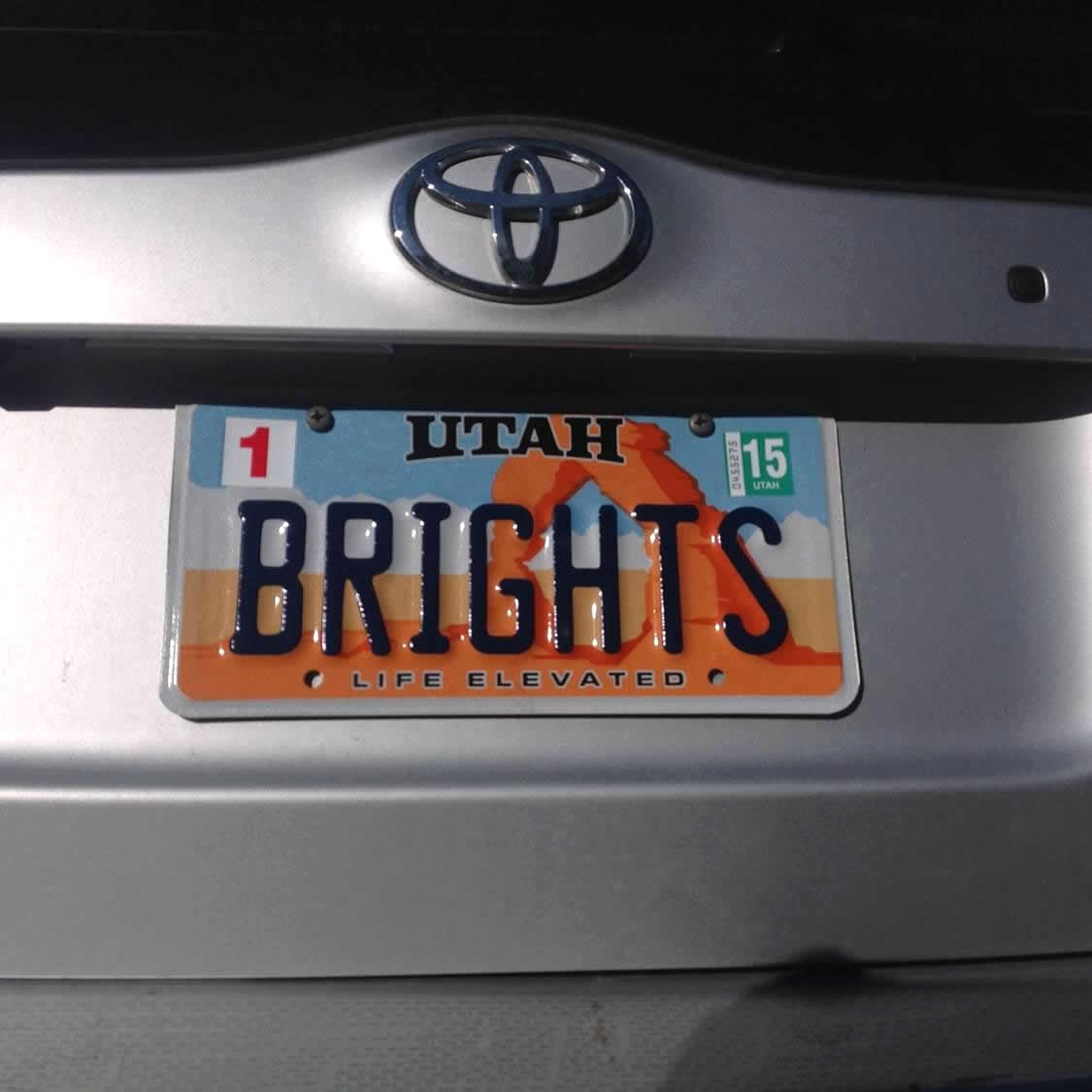 Jay, Crystal, Collin and Flora of Tulsa, OK
Quentin, together with eight other UK Brights
Pet Patch
Edwin's presents his version of "A Bright"
Are you an Atheist, a Freethinker, or a Humanistic Jew,
A Unitarian, an Agnostic; maybe a Secular Humanist too,
A Humanist, a Rationalist, or some new alphabet stew?
If the words you would express don't clearly clarify you,
But should address you don't caress some supernatural worldview,
No need for grief, there is relief, and something you can do—
Use the new word for all of us, who think that it is right
To know that scientific law is what holds back the night,
That a naturalistic worldview gives human beings light—
A word that means no more than that, and that new word is bright.
We can all still use words that divide us, and also be a Bright,
For what we have in common gives us all much greater might.
Whatever we might call ourselves, we each can be a Bright.
Edwin Kagan has been an Enthusiastic Bright since 2003
Geoff's poetic "one-person opinion" (UK)
A naturalistic delight
In the world is what makes me a Bright.
It was clear all along
Fear and magic are wrong,
Astrophysics and Darwin are right.
Clinton Turner's pi cinquain about being a Bright
Without supernatural beliefs.
Yea
I am a Bright
Meaning
That my worldview is naturalistic
"Here's to a Brighter Day!" by Chris Highland
The image reflects a sense of saying "Cheers!" to the dawn, and the dawning of a new age of reason. The photo is also a reminder of the "natural spirituality" of John Muir and others who saw the mountains as special "temples" inviting us to a deeper reverence of Nature. (Click the image for the full-size picture)
This I Believe
By Kathryn McAllister (age 17)
I am a Bright
I don't believe in the supernatural.
I believe in humanity
and the goodness inherent within us all
I am a Bright
I don't believe in tarot cards or crystal balls
I believe that the future is bright
and created by humanity's choices
I am a Bright
I don't believe in a god
I believe evolution gave us capacity to wonder
and that's miracle enough for me
I am a Bright
I don't believe in holy law
I believe morality is wise,
and I follow because it's right
I am a Bright
I don't believe in ghosts
I believe our time on earth is short,
and honestly, that scares me
I am a Bright
I don't believe in a heaven
I believe that you might,
and could you respect my beliefs too? 
I am a Bright
I don't believe in this futile conflict
I believe we all search for truth
and look in different places
I am a Bright
and I don't see anything wrong with that. 
Be a Bright (to tune of Silent Night)
Jerry Phillips, the Humanist Hymnal Guy
Be a Bright
Shine your light
Light the dark
Make your mark
Brother atheist, humanist, too
See together just what we can do
Change the world with one voice
Change the world with one voice
--------
Set yourself free
Unity
Makes us strong
Hear our song
Sisters, brothers, join the choir
Sing the song and spark the fire
Lift the darkness of night
Simply by being a Bright