Les enfants manifestent des signes de moralité même avant d'avoir été vraiment confrontés au monde extérieur.
De récentes études sur la moralité infantile montrent que, dès 14 mois, les bébés viennent en aide aux autres de manière spontanée, et ce sans en attendre la moindre récompense (Warneken & Tomasello, 2007).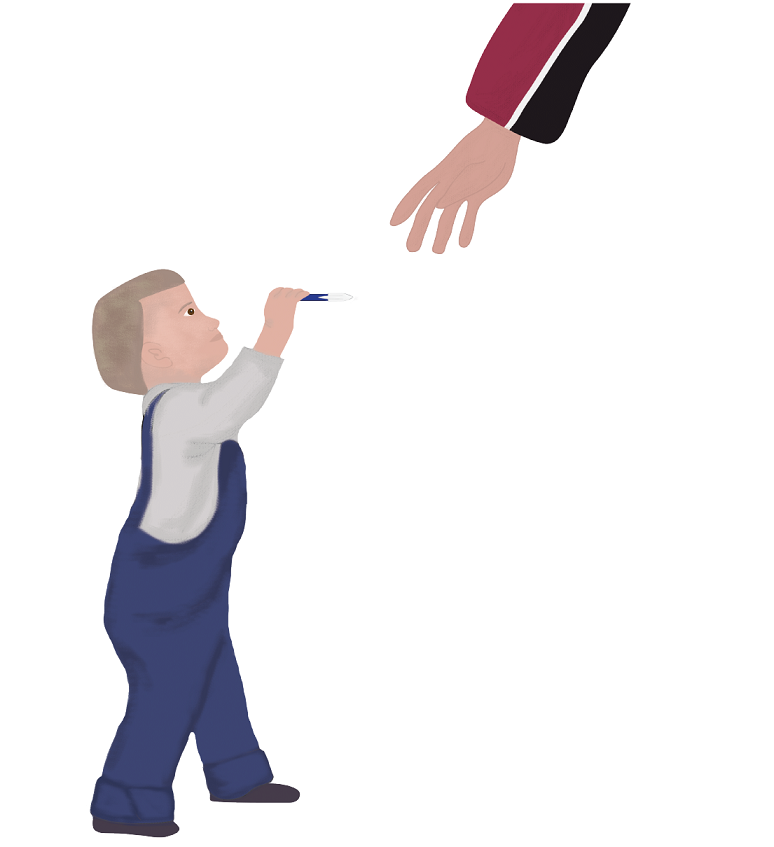 Au cours des dix dernières années, on a assisté à une explosion des recherches sur la moralité menée auprès de nourrissons. Des études expérimentales montrent que les bébés manifestent des tendances innées à l'assistance portée à autrui.
Voyez des recherches récentes menées avec des poupées auprès de bébés. Une poupée aide (un individu). Une autre poupée dessert (un autre individu). Les bébés observent les scènes. Dès l'âge de trois mois, ils manifestent des réactions différentes selon les poupées.
Des bébés de 6 mois réagissent positivement à des individus venant en aide aux autres. Dès 18 mois, les enfants sont prêts à aider les autres pour réaliser leurs objectifs. On a montré que la pro-socialité apparaissait chez les enfants dès l'âge de deux ans, et ainsi de suite.
Elle a beau être populaire, la croyance fausse voulant que les humains naissent égoïstes, puis deviennent progressivement moraux grâce aux enseignements religieux, manque de preuves formelles. Par exemple, dans un ensemble d'expériences, une personne n'arrive pas à attraper un objet. La plupart des bébés poussent l'objet pour aider la personne à l'attraper. Même des bébés de 14 mois. En moyenne, les bébés se mettent à aider les autres au bout de 6,9 secondes.
Ce développement précoce des comportements moraux montre combien les fois et les perspectives religieuses ne sont pas nécessaires à l'émergence de la moralité. La coopération, le jugement moral, l'égalitarisme, l'évaluation sociale et l'assistance pro-active sont innés et universels.
| | | | |
| --- | --- | --- | --- |
| | Enoncé n°3 | Page d'accueil | |
Références
Cummins, D.D. (1996). Evidence for the innateness of deontic reasoning. Mind and Language, 11, 160–190.
Cummins, D.D. (1996). Evidence of deontic reasoning in 3- and 4-year-olds. Memory and Cognition, 24, 823–29.
Engelmann, J. M., Herrmann, E., Rapp, D., & Tomasello, M. (2016). Young children (sometimes) do the right thing even when their peers do not. Cognitive Development, 39, 86-92.
Fehr, E., Bernhard, H., & Rockenbach, B. (2008). Egalitarianism in young children. Nature, 454(7208), 1079-1083.
Feiman, R., Carey, S., & Cushman, F. (2015). Infants' representations of others' goals: Representing approach over avoidance. Cognition, 136, 204-214.
Hamlin, J. K., Wynn, K., & Bloom, P. (2007). Social evaluation by preverbal infants. Nature, 450, 557-559.
Hamlin, J.K., Wynn, K., & Bloom, P. (2010). Three-month-olds show a negativity bias in their social evaluations. Developmental Science, 13(6), 923-929.
Heiphetz, L., Lane, J. D., Waytz, A., & Young, L. L. (2015). How Children and Adults Represent God's Mind. Cognitive science.
Heiphetz, L., Spelke, E. S., & Young, L. L. (2015). In the name of God - How children and adults judge agents who act for religious versus secular reasons. Cognition, 144, 134-149.
Leslie, A.M., Knobe, J., & Cohen, A. (2006). Acting intentionally and the side-effect effect: 'Theory of mind' and moral judgment. Psychological Science, 17,421–427.
Leslie, A.M., Mallon, R., & DiCorcia, J.A. (2006). Transgressors, victims, and cry babies: Is basic moral judgment spared in autism? Social Neuroscience, 1 (3), 270 – 283.
Riedl, K., Jensen, K., Call, J., & Tomasello, M. (2015). Restorative justice in children. Current Biology, 25(13), 1731-1735.
Rossano, F., Fiedler, L., & Tomasello, M. (2015). Preschoolers' understanding of the role of communication and cooperation in establishing property rights. Developmental psychology, 51(2), 176.
Tasimi, A., & Young, L. (2016). Memories of good deeds past- the reinforcing power of prosocial behavior in children. Journal of Experimental Child Psychology, 147, 159-166.
Ulber, J., Hamann, K., & Tomasello, M. (2015). How 18-and 24-month-old peers divide resources among themselves. Journal of experimental child psychology, 140, 228-244.
Vaish, A., Herrmann, E., Markmann, C., & Tomasello, M. (2016). Preschoolers value those who sanction non-cooperators. Cognition, 153, 43-51.
Vogelsang, M., & Tomasello, M. (2016). Giving is nicer than taking: Preschoolers reciprocate based on the social intentions of the distributor. PLoS One, 11(1)- e0147539.
Warneken, F. (2016). Insights into the biological foundation of human altruistic sentiments. Current Opinion in Psychology, 7, 51-56.
Warneken, F. (2013). The development of altruistic behavior: Helping in children and chimpanzees. Social Research, 80(2), 431-442.
Warneken, F. (2013). Young children proactively remedy unnoticed accidents. Cognition, 126(1), 101-108.
Warneken, F. , Hare, B., Melis, A.P., Hanus, D., & Tomasello, M. (2007). Spontaneous altruism by chimpanzees and young children. PLoS Biology, 5(7), e184.
Warneken, F., & Tomasello, M. (2006). Altruistic helping in human infants and young chimpanzees. Science, 311(5765), 1301-1303.
Warneken, F., & Tomasello, M. (2007). Helping and cooperation at 14 months of age. Infancy, 11(3), 271-294.
Warneken, F., & Tomasello, M. (2009). Varieties of altruism in children and chimpanzees. Trends in Cognitive Sciences, 13(9), 397-402.
Warneken, F., Chen, F., & Tomasello, M. (2006). Cooperative activities in young children and chimpanzees. Child Development, 77 (3), 640-663.
The studies linked on this page are accessible via the researchers' websites and other public domain sources. If not linked, those studies are only available via academic journals.