Barn uppvisar tecken på moral även innan de har upplevt speciellt mycket av världen.
Ny forskning om barn-moral visar att, med början vid 14 månaders ålder, barn spontant hjälper andra utan förväntan på någon belöning (Warneken & Tomasello, 2007).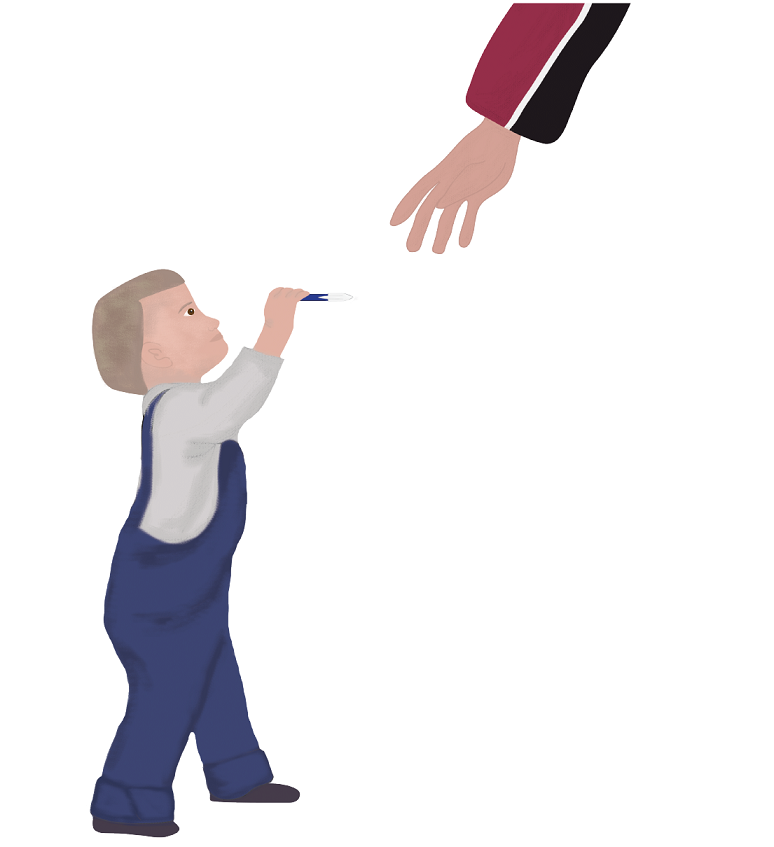 Det har skett en explosion av moralforskning  med spädbarn de senaste decenniet. Experimentella studier visar nu att redan spädbarn uppvisar medfödda tendenser till att hjälpa andra.
Tänk på den nya forskningen med dockor och spädbarn: En docka hjälper (en person). En annan docka hindrar (en annan person). Spädbarnen observerar det tillmötesgående och ohjälpsamma uppförandet. Spädbarn så unga som tre månader reagerar olika gentemot dessa dockor.
Sex-månaders spädbarn reagerar även positivt mot personer som hjälper andra. Vid 18 månaders ålder hjälper barnen själva beredvilligt andra att uppnå sina mål. Prosocialt beteende har visats dyka upp hos barn så unga som två år. Och så vidare.
Trots att den är populär, den felaktiga föreställningen att människor till sin natur är födda själviska, och sedan gradvis blir moraliska genom religiös undervisning, saknar evidens. Till exempel, i en uppsättning experiment, en person sträcker sig efter ett föremål utan att lyckas nå det. De flesta spädbarn överlämnar hjälpsamt föremålet. Till och med 14-månaders barn rör på sig för att hjälpa till. I medeltal, barn hjälpte andra inom 6.9 sekunder i experimentella försök.
Tidig utveckling av moraliskt beteende kastar ljus på frågan varför trosföreställningar och världsbilder inte är nödvändiga för uppkomsten av moral. Samarbetsvillighet, moraliska omdömen, jämlikhet, sociala bedömningar och proaktivt hjälpande är medfödda och universella.
| | | | |
| --- | --- | --- | --- |
| | Påstående 3 | Hemsida | |
Referenser
Cummins, D.D. (1996). Evidence for the innateness of deontic reasoning. Mind and Language, 11, 160–190.
Cummins, D.D. (1996). Evidence of deontic reasoning in 3- and 4-year-olds. Memory and Cognition, 24, 823–29.
Engelmann, J. M., Herrmann, E., Rapp, D., & Tomasello, M. (2016). Young children (sometimes) do the right thing even when their peers do not. Cognitive Development, 39, 86-92.
Fehr, E., Bernhard, H., & Rockenbach, B. (2008). Egalitarianism in young children. Nature, 454(7208), 1079-1083.
Feiman, R., Carey, S., & Cushman, F. (2015). Infants' representations of others' goals: Representing approach over avoidance. Cognition, 136, 204-214.
Hamlin, J. K., Wynn, K., & Bloom, P. (2007). Social evaluation by preverbal infants. Nature, 450, 557-559.
Hamlin, J.K., Wynn, K., & Bloom, P. (2010). Three-month-olds show a negativity bias in their social evaluations. Developmental Science, 13(6), 923-929.
Heiphetz, L., Lane, J. D., Waytz, A., & Young, L. L. (2015). How Children and Adults Represent God's Mind. Cognitive science.
Heiphetz, L., Spelke, E. S., & Young, L. L. (2015). In the name of God - How children and adults judge agents who act for religious versus secular reasons. Cognition, 144, 134-149.
Leslie, A.M., Knobe, J., & Cohen, A. (2006). Acting intentionally and the side-effect effect: 'Theory of mind' and moral judgment. Psychological Science, 17,421–427.
Leslie, A.M., Mallon, R., & DiCorcia, J.A. (2006). Transgressors, victims, and cry babies: Is basic moral judgment spared in autism? Social Neuroscience, 1 (3), 270 – 283.
Riedl, K., Jensen, K., Call, J., & Tomasello, M. (2015). Restorative justice in children. Current Biology, 25(13), 1731-1735.
Rossano, F., Fiedler, L., & Tomasello, M. (2015). Preschoolers' understanding of the role of communication and cooperation in establishing property rights. Developmental psychology, 51(2), 176.
Tasimi, A., & Young, L. (2016). Memories of good deeds past- the reinforcing power of prosocial behavior in children. Journal of Experimental Child Psychology, 147, 159-166.
Ulber, J., Hamann, K., & Tomasello, M. (2015). How 18-and 24-month-old peers divide resources among themselves. Journal of experimental child psychology, 140, 228-244.
Vaish, A., Herrmann, E., Markmann, C., & Tomasello, M. (2016). Preschoolers value those who sanction non-cooperators. Cognition, 153, 43-51.
Vogelsang, M., & Tomasello, M. (2016). Giving is nicer than taking: Preschoolers reciprocate based on the social intentions of the distributor. PLoS One, 11(1)- e0147539.
Warneken, F. (2016). Insights into the biological foundation of human altruistic sentiments. Current Opinion in Psychology, 7, 51-56.
Warneken, F. (2013). The development of altruistic behavior: Helping in children and chimpanzees. Social Research, 80(2), 431-442.
Warneken, F. (2013). Young children proactively remedy unnoticed accidents. Cognition, 126(1), 101-108.
Warneken, F. , Hare, B., Melis, A.P., Hanus, D., & Tomasello, M. (2007). Spontaneous altruism by chimpanzees and young children. PLoS Biology, 5(7), e184.
Warneken, F., & Tomasello, M. (2006). Altruistic helping in human infants and young chimpanzees. Science, 311(5765), 1301-1303.
Warneken, F., & Tomasello, M. (2007). Helping and cooperation at 14 months of age. Infancy, 11(3), 271-294.
Warneken, F., & Tomasello, M. (2009). Varieties of altruism in children and chimpanzees. Trends in Cognitive Sciences, 13(9), 397-402.
Warneken, F., Chen, F., & Tomasello, M. (2006). Cooperative activities in young children and chimpanzees. Child Development, 77 (3), 640-663.
The studies linked on this page are accessible via the researchers' websites and other public domain sources. If not linked, those studies are only available via academic journals.