Los bebés muestran señales de moralidad aún antes de haber tenido mucha experiencia del mundo.
Estudios recientes sobre moralidad infantil muestran que a los 14 meses de edad, los bebés ayudan a otros espontáneamente sin esperar ningún premio (Warneken & Tomasello, 2007).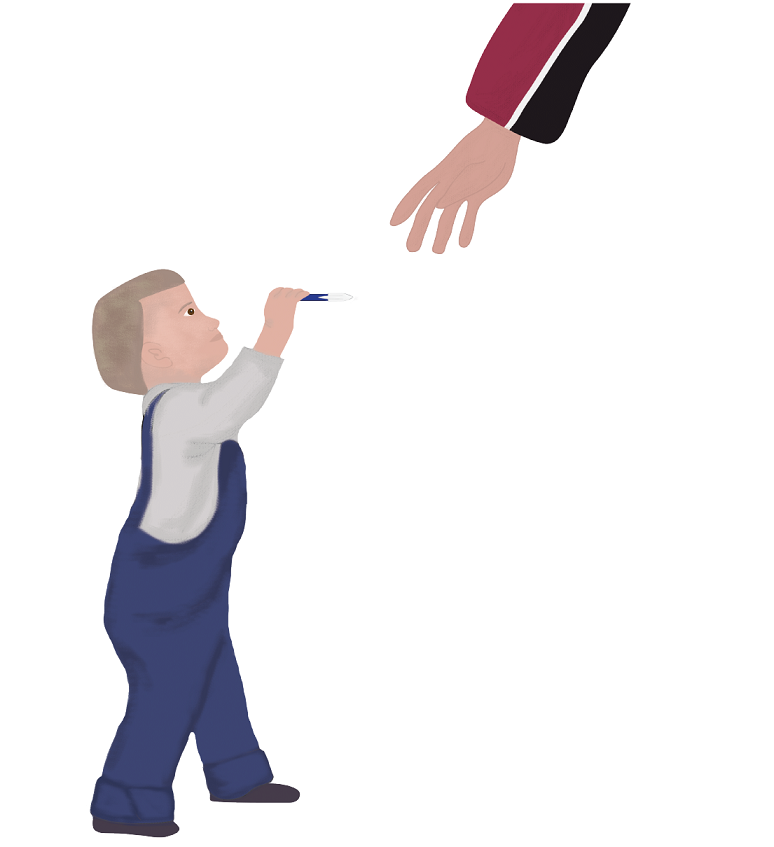 Durante la última década ha habido una explosión de investigación sobre moralidad infantil. Estudios experimentales muestran ahora que los bebés ya muestran tendencias innatas hacia ayudar a otros.
Considere la investigación reciente de marionetas con bebés: Una marioneta ayuda (a un individuo). Otra marioneta entorpece (a otro individuo). Los bebés observan la conducta servicial y la no servicial. Los bebés de apenas tres meses de edad responden en forma diferente a estas marionetas.
Los bebés de seis meses de edad también reaccionan positivamente a individuos que ayudan a otros. A los 18 meses de edad, los mismos niños están prontos a ayudar a que otros logren sus objetivos. Se ha visto que la actitud pro social surge en niños de tan sólo dos años de edad. Y así continúa.
Aunque popular, la errada convicción de que los seres humanos nacen egoístas por naturaleza y después se ponen moralistas mediante enseñanza religiosa, esta convicción carece de evidencia. Por ejemplo, en una serie de experimentos, una persona no logra alcanzar un objeto. Muchos de los bebés serviciales le pasan el objeto. Aún bebés de 14 meses de edad van en la ayuda. En promedio, los niños ayudaron a otros dentro de 6.9 segundos en estudios experimentales.
El desarrollo temprano del comportamiento moral clarifica el por qué la fe y la visión del mundo no son necesarios para el surgimiento de la moralidad. El espíritu cooperativo, la moral/juicio, igualitarismo, evaluación social la ayuda proactiva son innatos y universales.
| | | | |
| --- | --- | --- | --- |
| | Declaración 3 | Página inicial | |
Referencias
Cummins, D.D. (1996). Evidence for the innateness of deontic reasoning. Mind and Language, 11, 160–190.
Cummins, D.D. (1996). Evidence of deontic reasoning in 3- and 4-year-olds. Memory and Cognition, 24, 823–29.
Engelmann, J. M., Herrmann, E., Rapp, D., & Tomasello, M. (2016). Young children (sometimes) do the right thing even when their peers do not. Cognitive Development, 39, 86-92.
Fehr, E., Bernhard, H., & Rockenbach, B. (2008). Egalitarianism in young children. Nature, 454(7208), 1079-1083.
Feiman, R., Carey, S., & Cushman, F. (2015). Infants' representations of others' goals: Representing approach over avoidance. Cognition, 136, 204-214.
Hamlin, J. K., Wynn, K., & Bloom, P. (2007). Social evaluation by preverbal infants. Nature, 450, 557-559.
Hamlin, J.K., Wynn, K., & Bloom, P. (2010). Three-month-olds show a negativity bias in their social evaluations. Developmental Science, 13(6), 923-929.
Heiphetz, L., Lane, J. D., Waytz, A., & Young, L. L. (2015). How Children and Adults Represent God's Mind. Cognitive science.
Heiphetz, L., Spelke, E. S., & Young, L. L. (2015). In the name of God - How children and adults judge agents who act for religious versus secular reasons. Cognition, 144, 134-149.
Leslie, A.M., Knobe, J., & Cohen, A. (2006). Acting intentionally and the side-effect effect: 'Theory of mind' and moral judgment. Psychological Science, 17,421–427.
Leslie, A.M., Mallon, R., & DiCorcia, J.A. (2006). Transgressors, victims, and cry babies: Is basic moral judgment spared in autism? Social Neuroscience, 1 (3), 270 – 283.
Riedl, K., Jensen, K., Call, J., & Tomasello, M. (2015). Restorative justice in children. Current Biology, 25(13), 1731-1735.
Rossano, F., Fiedler, L., & Tomasello, M. (2015). Preschoolers' understanding of the role of communication and cooperation in establishing property rights. Developmental psychology, 51(2), 176.
Tasimi, A., & Young, L. (2016). Memories of good deeds past- the reinforcing power of prosocial behavior in children. Journal of Experimental Child Psychology, 147, 159-166.
Ulber, J., Hamann, K., & Tomasello, M. (2015). How 18-and 24-month-old peers divide resources among themselves. Journal of experimental child psychology, 140, 228-244.
Vaish, A., Herrmann, E., Markmann, C., & Tomasello, M. (2016). Preschoolers value those who sanction non-cooperators. Cognition, 153, 43-51.
Vogelsang, M., & Tomasello, M. (2016). Giving is nicer than taking: Preschoolers reciprocate based on the social intentions of the distributor. PLoS One, 11(1)- e0147539.
Warneken, F. (2016). Insights into the biological foundation of human altruistic sentiments. Current Opinion in Psychology, 7, 51-56.
Warneken, F. (2013). The development of altruistic behavior: Helping in children and chimpanzees. Social Research, 80(2), 431-442.
Warneken, F. (2013). Young children proactively remedy unnoticed accidents. Cognition, 126(1), 101-108.
Warneken, F. , Hare, B., Melis, A.P., Hanus, D., & Tomasello, M. (2007). Spontaneous altruism by chimpanzees and young children. PLoS Biology, 5(7), e184.
Warneken, F., & Tomasello, M. (2006). Altruistic helping in human infants and young chimpanzees. Science, 311(5765), 1301-1303.
Warneken, F., & Tomasello, M. (2007). Helping and cooperation at 14 months of age. Infancy, 11(3), 271-294.
Warneken, F., & Tomasello, M. (2009). Varieties of altruism in children and chimpanzees. Trends in Cognitive Sciences, 13(9), 397-402.
Warneken, F., Chen, F., & Tomasello, M. (2006). Cooperative activities in young children and chimpanzees. Child Development, 77 (3), 640-663.
The studies linked on this page are accessible via the researchers' websites and other public domain sources. If not linked, those studies are only available via academic journals.