Omdat moraliteit verworven is door evolutie bestaat het in alle maatschappijen en culturen.
Omdat ze zonder uitzondering voorkomen in alle menselijke culturen zijn universele morele waarden zoals je vindt in deze tabel waarschijnlijk geëvolueerde phsychologische fenomenen (Brown, 1991).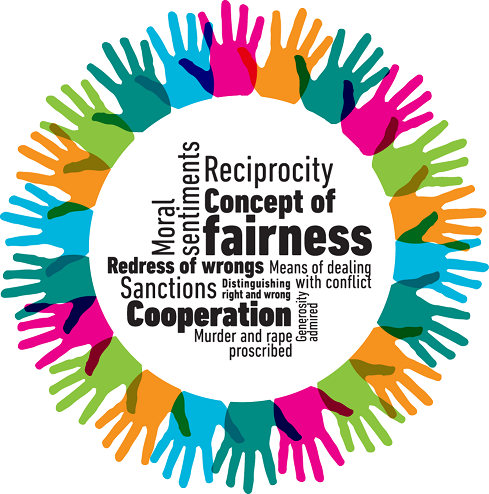 Antropoloog Donald E. Brown verwachtte niet om een morele eenheid te vinden voor de hele mensheid maar dat is wat hij vond.
Brown was aan het zoeken naar gedragingen en mentale kenmerken die alle neurologisch normale mensen delen, over alle culturen heen. Zijn idee was om een lijst te maken met 'universele menselijke waarden' in alle maatschappijen.
Het project ontdekte een aantal constante ethische patronen in elke cultuur. De religies en geloofssystemen op alle continenten zijn kleurrijk en gevarieerd maar toch verbieden ze alle bepaald gedrag. Verkrachting? verboden. Moord? verboden in alle maatschappijen.
Andere overeenkomsten werden gevonden zoals empathie, samenwerking, schaamte, eerlijkheid enzovoort. Van  westerse democratieën tot geïsoleerde 'primitieve' stammen: universele morele waarden.
Tientallen jaren onderzoek heeft aangetoond dat geen enkele maatschappij het monopolie heeft op goed gedrag. Moreel gedrag hangt niet af van een persoon zijn religie of favoriete god hetgeen aangeeft dat moraliteit evolutionaire wortels heeft.
Moraliteit in culturen over de hele wereld is nu uitvoeriger bestudeerd. Sociale wetenschapper Ara Norenzayan vat het als volgt samen: "… het verband tussen moraliteit en religie verschilt af van cultuur tot cultuur; het verband is zwak of niet bestaand in kleine groepen maar wordt sterker naargelang de groepen groter worden en de maatschappij ingewikkelder wordt.
| | | | |
| --- | --- | --- | --- |
| | Stelling 2 | Stelling 4 | |
Bronnen
Aime, H., Broesch, T., Aknin, L. B., & Warneken, F. (2017). Evidence for proactive and reactive helping in two-to five-year-olds from a small-scale society. PLoS One, 12(11), e0187787.
Blake, P. R., Corbit, J., Callaghan, T. C., & Warneken, F. (2016). Give as I give: Adult influence on children's giving in two cultures. Journal of Experimental Child Psychology, 152, 149-160.
Blake, P.R., McAuliffe, K., Corbit, J., Callaghan, T.C., Barry, O., Bowie, A., Kleutsch, L., Kramer, K.L., Ross, E., Vongsachang, H., Wrangham, R., & Warneken, F., (2015) The ontogeny of fairness in seven societies. Nature, 528, 258–261.
Boyd R., Gintis H., Bowles S., & Richerson P.J. (2003). The evolution of altruistic punishment. Proceedings of the National Academy of Sciences USA, 100, 3531-3535.
Brown, D.E. (1991). Human universals. New York : McGraw-Hill.
Bursztyn, L., Fiorin, S., Gottlieb, D., & Kanz, M. (2015). Moral incentives - Experimental evidence from repayments of an Islamic credit card (No. w21611). National Bureau of Economic Research.
Cushman, F., Young, L., & Hauser, M.D. (2007). The role of conscious reasoning and intuition in moral judgments: Testing three principles of harm. Psychological Science, 17 (12), 1082-89.
Dahlsgaard, K., Peterson, C., & Seligman, M. E. P. (2005). Shared virtue: The convergence of valued human strengths across culture and history. Review of General Psychology, 9(3), 203-213.
Fehr E., Fischbacher, U. & Gachter, S. (2002). Strong reciprocity, human cooperation, and the enforcement of social norms. Human Nature, 13:1-25.
Fiddick, L. (2003). Is there a faculty of deontic reasoning? A critical reevaluation of abstract deontic versions of the Wason selection task. In D. Over (Ed.), Evolution and the psychology of thinking: The debate. (pp. 33-60). Psychology Press.
Fiddick, L. (2004). Domains of deontic reasoning: Resolving the discrepancy between the cognitive and moral reasoning literatures. Quarterly Journal of Experimental Psychology, 57A, 447-474.
Geipel, J., Hadjichristidis, C., & Surian, L. (2015). The foreign language effect on moral judgment- The role of emotions and norms. PloS one, 10(7), e0131529.
Gintis, H., Bowles, S., Boyd, R. & Fehr, E. (2003). Explaining altruistic behavior in humans. Evolution and Human Behavior, 24, 153-172.
Graham, J., Meindl, P., Beall, E., Johnson, K. M., & Zhang, L. (2016). Cultural differences in moral judgment and behavior, across and within societies. Current Opinion in Psychology, 8, 125-130.
Henrich, J., Boyd, R., Bowles, S., Camerer, C., Fehr, E., Gintis, H., . . . Tracer, D. (2005). 'Economic Man' in cross-cultural perspective: Behavioral experiments in 15 small-scale societies. Behavioral and Brain Sciences, 28(6), 795–855.
Johnson, D.D.P. (2005) God's punishment and public goods: A test of the supernatural punishment hypothesis in 186 world cultures. Human Nature, 16 (4), 410–446.
Lieberman, D. & Symons, D. (1998).  Sibling incest avoidance: From Westermarck to Wolf. Quarterly Review of Biology, 73 (4), 463–466.
Lieberman, D. (2007). Moral sentiments relating to incest: Discerning adaptations from by–products. In W. Sinnott–Armstrong (Ed.), Moral Psychology Volume 1: The Evolution of Morality. Cambridge, MA : MIT Press.
Lieberman, D., Tooby, J. & Cosmides, L. (2003). Does morality have a biological basis? An empirical test of the factors governing moral sentiments regarding incest. Proceedings of the Royal Society, London B, 270, 819–826.
McNamara, R. A., Norenzayan, A., & Henrich, J. (2016). Supernatural punishment, in-group biases, and material insecurity- Experiments and ethnography from Yasawa, Fiji. Religion, Brain & Behavior, 6, 34-55.
Newman, G. (1976). Comparative Deviance: Perception and law in six cultures.
Norenzayan, A., Shariff, A. F., Gervais, W. M., Willard, A. K., McNamara, R. A., Slingerland, E., & Henrich, J. (2016). The cultural evolution of prosocial religions. Behavioral and Brain Sciences, 39.
Norenzayan, A. (2016). Theodiversity. Annual Review of Psychology, 67, 465-488.
Norenzayan, A. (2016). Psychology, Cultural Evolution, and Religious Diversity. Annual review of psychology, 67(1).
Norenzayan, A., & Gervais, W. M. (2013). Secular rule of law erodes believers' political intolerance of atheists. Religion, Brain, and Behavior.
O'Neill, P., & Petrinovich, L. (1998). A Preliminary Cross-Cultural Study of Moral Intuitions. Evolution and Human Behavior, 19(6), 349-367.
Purzycki, B. G., Henrich, J., Apicella, C., Atkinson, Q. D., Baimel, A., Cohen, E.,...& Norenzayan, A. (2017). The evolution of religion and morality: a synthesis of ethnographic and experimental evidence from eight societies. Religion, Brain & Behavior, 1-32.
Roes, F. L., & Raymond, M. (2003). Belief in moralizing gods. Evolution and Human Behavior, 24, 126–35.
Schaefer, M., Haun, D. B. M., & Tomasello, M. (2015). Fair is not fair everywhere. Psychological Science, 26(8), 1252-1260.
Schwartz, S. H. (1994). Are there universal aspects in the structure and contents of human values? Journal of Social Issues, 50(4), 19-45.
Shariff, A. F., & Norenzayan, A. (2011). Mean gods make good people - Different views of God predict cheating behavior. The International Journal for the Psychology of Religion, 21(2), 85-96.
Shariff, A. F., & Rhemtulla, M. (2012). Divergent effects of beliefs in heaven and hell on national crime rates. PLoS ONE 7(6).
Sugiyama, L.S., Tooby, J. & Cosmides, L. (2002). Cross-cultural evidence of cognitive adaptations for social exchange among the Shiwiar of Ecuadorian Amazonia. Proceedings of the National Academy of Sciences, 99(17) , 11537-11542.
Sznycer, D., De Smet, D., Billingsley, J., & Lieberman, D. (2016). Coresidence duration and cues of maternal investment regulate sibling altruism across cultures. Journal of Personality and Social Psychology, 111(2), 159.
Sznycer, D., Tooby, J., Cosmides, L., Porat, R., Shalvi, S., & Halperin, E. (2016). Shame closely tracks the threat of devaluation by others, even across cultures. Proceedings of the National Academy of Sciences, 113(10), 2625-2630.
Thornhill, N. W. (1991). An evolutionary analysis of rules regulating human inbreeding and marriage. Behavioral and Brain Sciences, 14(02), 247-261.
Wade, M.J., & Breden, F. (1980). The evolution of cheating and selfish behavior. Behavioral Ecology and Sociobiology, 7 (3), 167-172.
Wattles, J. (1996). The golden rule. Oxford : Oxford University Press.
Weeden, J., & Kurzban, R. (2013). What predicts religiosity? A multinational analysis of reproductive and cooperative morals. Evolution and Human Behavior, 34(6) 440-445.
Wenegrat, B., Castillo-Yee, E. & Abrams, L. (1996). Social norm compliance as a signaling system: Studies of fitness-related attributions consequent on a group norm violation. Ethology and Sociobiology, 17 (6), 417-424.
Westermarck, E. A. (1906). The Origin and Development of the Moral Ideas. London: Macmillan
Wiessner, P. (2005). Norm enforcement among the Ju/'hoansi Bushmen: A case of strong reciprocity? Human Nature, 16, 115-145.
Wu, J. J., Ji, T., He, Q. Q., Du, J., & Mace, R. (2015). Cooperation is related to dispersal patterns in Sino-Tibetan populations. Nature Communications, 6.
Xygalatas, D., Klocová, E. K., Cigán, J., Kundt, R., Mano, P., Kotherová, and Kanovsky, M. (2015). Location location location - Effects of cross-religious primes on.
The studies linked on this page are accessible via the researchers' websites and other public domain sources. If not linked, those studies are only available via academic journals.