Crianças exibem sinais de moralidade mesmo antes de vivenciar o mundo.
Pesquisas recentes sobre moralidade infantil mostram que, a partir dos 14 meses de idade, crianças ajudam espontaneamente os outros sem nenhuma expectativa de recompensa (Warneken & Tomasello, 2007).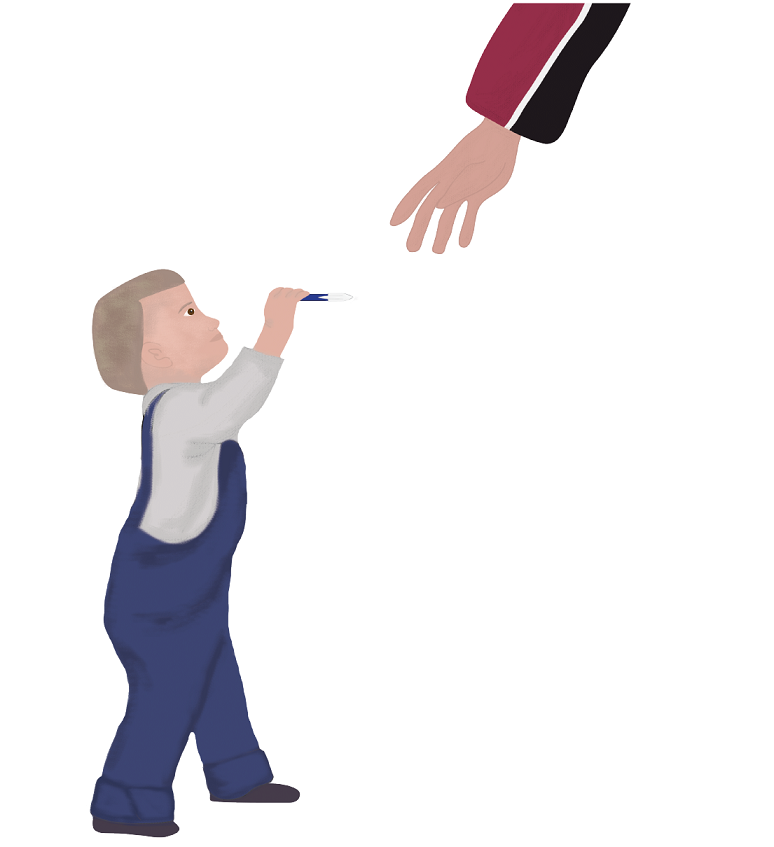 Houve uma explosão de pesquisas sobre moralidade com crianças nas últimas décadas. Estudos experimentais atuais mostram que crianças já exibem tendências inatas a ajudar os outros.
Considere a recente pesquisa com bonecas e bebês: uma boneca ajuda (um indivíduo). Outra boneca atrapalha (um indivíduo diferente). Os bebês observam a conduta cômoda e inútil. Crianças com 3 meses reagem diferentemente à essas bonecas.
Crianças com 6 meses também reagem positivamente a indivíduos que ajudam os outros. Aos 18 meses de idade, crianças ajudam os outros a atingir seus objetivos. Socialidade pró-ativa aparece em crianças com 2 anos de idade. E assim por diante.
Apesar de popular, a crença incorreta de que humanos nascem egoístas, e que gradualmente se tornam morais através de ensinamentos religiosos, carece de evidências. Por exemplo, em uma série de experimentos, uma pessoa não consegue alcançar um objeto. A maioria das crianças solicitamente ajuda a pegar o objeto. Até crianças de 14 meses tentam ajudar. Na média, as crianças ajudaram os outros em 6.9 segundos nos experimentos.
O desenvolvimento prematuro de comportamentos morais joga luz na questão das fés e visões de mundo não serem necessárias para o surgimento da moralidade. Cooperativismo, julgamento moral, igualitarismo, avaliação social, e ajuda pró-ativa são inatos e universais.
| | | | |
| --- | --- | --- | --- |
| | Afirmação 3 | Página base | |
Referências
Cummins, D.D. (1996). Evidence for the innateness of deontic reasoning. Mind and Language, 11, 160–190.
Cummins, D.D. (1996). Evidence of deontic reasoning in 3- and 4-year-olds. Memory and Cognition, 24, 823–29.
Engelmann, J. M., Herrmann, E., Rapp, D., & Tomasello, M. (2016). Young children (sometimes) do the right thing even when their peers do not. Cognitive Development, 39, 86-92.
Fehr, E., Bernhard, H., & Rockenbach, B. (2008). Egalitarianism in young children. Nature, 454(7208), 1079-1083.
Feiman, R., Carey, S., & Cushman, F. (2015). Infants' representations of others' goals: Representing approach over avoidance. Cognition, 136, 204-214.
Hamlin, J. K., Wynn, K., & Bloom, P. (2007). Social evaluation by preverbal infants. Nature, 450, 557-559.
Hamlin, J.K., Wynn, K., & Bloom, P. (2010). Three-month-olds show a negativity bias in their social evaluations. Developmental Science, 13(6), 923-929.
Heiphetz, L., Lane, J. D., Waytz, A., & Young, L. L. (2015). How Children and Adults Represent God's Mind. Cognitive science.
Heiphetz, L., Spelke, E. S., & Young, L. L. (2015). In the name of God - How children and adults judge agents who act for religious versus secular reasons. Cognition, 144, 134-149.
Leslie, A.M., Knobe, J., & Cohen, A. (2006). Acting intentionally and the side-effect effect: 'Theory of mind' and moral judgment. Psychological Science, 17,421–427.
Leslie, A.M., Mallon, R., & DiCorcia, J.A. (2006). Transgressors, victims, and cry babies: Is basic moral judgment spared in autism? Social Neuroscience, 1 (3), 270 – 283.
Riedl, K., Jensen, K., Call, J., & Tomasello, M. (2015). Restorative justice in children. Current Biology, 25(13), 1731-1735.
Rossano, F., Fiedler, L., & Tomasello, M. (2015). Preschoolers' understanding of the role of communication and cooperation in establishing property rights. Developmental psychology, 51(2), 176.
Tasimi, A., & Young, L. (2016). Memories of good deeds past- the reinforcing power of prosocial behavior in children. Journal of Experimental Child Psychology, 147, 159-166.
Ulber, J., Hamann, K., & Tomasello, M. (2015). How 18-and 24-month-old peers divide resources among themselves. Journal of experimental child psychology, 140, 228-244.
Vaish, A., Herrmann, E., Markmann, C., & Tomasello, M. (2016). Preschoolers value those who sanction non-cooperators. Cognition, 153, 43-51.
Vogelsang, M., & Tomasello, M. (2016). Giving is nicer than taking: Preschoolers reciprocate based on the social intentions of the distributor. PLoS One, 11(1)- e0147539.
Warneken, F. (2016). Insights into the biological foundation of human altruistic sentiments. Current Opinion in Psychology, 7, 51-56.
Warneken, F. (2013). The development of altruistic behavior: Helping in children and chimpanzees. Social Research, 80(2), 431-442.
Warneken, F. (2013). Young children proactively remedy unnoticed accidents. Cognition, 126(1), 101-108.
Warneken, F. , Hare, B., Melis, A.P., Hanus, D., & Tomasello, M. (2007). Spontaneous altruism by chimpanzees and young children. PLoS Biology, 5(7), e184.
Warneken, F., & Tomasello, M. (2006). Altruistic helping in human infants and young chimpanzees. Science, 311(5765), 1301-1303.
Warneken, F., & Tomasello, M. (2007). Helping and cooperation at 14 months of age. Infancy, 11(3), 271-294.
Warneken, F., & Tomasello, M. (2009). Varieties of altruism in children and chimpanzees. Trends in Cognitive Sciences, 13(9), 397-402.
Warneken, F., Chen, F., & Tomasello, M. (2006). Cooperative activities in young children and chimpanzees. Child Development, 77 (3), 640-663.
The studies linked on this page are accessible via the researchers' websites and other public domain sources. If not linked, those studies are only available via academic journals.