Moraleco ne estas sole homa trajto; oni trovas aspektojn de moraleco ankaŭ en bestaj interrilatoj.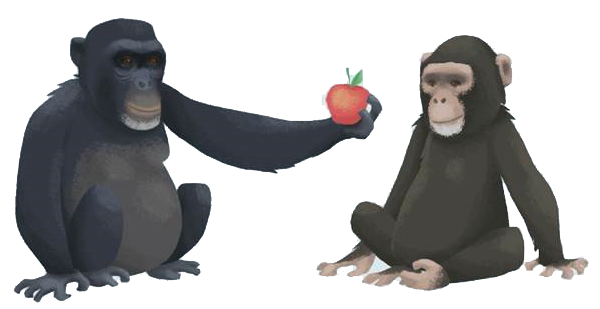 Kunsento, justeco, reciprokeco, kaj aliaj moralaj kondutoj ekaperis milionojn da jaroj antaŭ homaj religioj (deWaal, 2013).
Multaj homoj kredas, ke nia specio ricevas moralecon sole de Dio aŭ dioj. Ĉu vere?
Certe, tiu opinio estas populara. Tamen, faktoj ne subtenas tiun malĝustan kredon.
Pro scienco, ni ekkonscias, ke la homaro – Homo sapiens – estas nur unu specio el multaj, kiuj instinkte havas moralecon.[1][2] Pripensu la sociajn interrilatojn de nehomaj primatoj. Pli ol 90 procento de tiuj interrilatoj estas simpatiaj kaj kunlaboraj, anstataŭ konkuraj aŭ apartigaj.[3]
Aliaj ekzemploj de morala konduto [4]:
Simioj de la specio "Diana" helpas unu la alian por kolekti manĝaĵon.
Elefantaro malŝlosas la pordon en ĉirkaŭbarilo por helpi, ke kaptitaj antilopoj eskapu.
Kato, nomata Libby, gvidas sian maljunan, surdan, kaj blindan hund-amikon, Cashew, ĉirkaŭ obstakloj al manĝaĵo.
Rato en kaĝo rifuzas puŝi stangon por manĝaĵo, kiam ĝi vidas, ke la puŝo de la stango elektroŝokas alian raton.

Kiel la respektinda sciencisto de moraleco, Marc Bekoff, diras pri homoj, "Ni ne estas la solaj okupantoj de la morala areno."[5]
Helpi, kunlabori, kaj zorgi – tiuj ne estas trajtoj ekskluzive posedataj de homoj, akirataj per sanktaj libroj aŭ dioj. Nia plej proksima primata parenco, la ĉimpanzo (kun kiu 98% el niaj genoj estas komunaj), ankaŭ montras tiujn trajtojn. Tiaj kvalitoj gene devenas de komuna, evoluinta prafamilio. Oni vidas tiajn moralajn kondutojn eĉ en specioj sur tiuj branĉoj, kiuj estas malproksimaj de ni en la evolua arbo.[6][7]
| | | | |
| --- | --- | --- | --- |
| | Aserto 1 | Aserto 3 | |
Konsultaĵoj
Aureli, F., & de Waal, F. B. M. (Eds.). (2000). Natural conflict resolution. Berkeley: University of California Press. 
Axelrod, R., & Hamilton, W. (1981). The evolution of cooperation. Science, 211, 1390-1396.
Brosnan, S. F., & de Waal, F. B. M. (2003). Monkeys reject unequal pay. Nature, 425, 297–299.
Chen, K. & Hauser, M.D. (2005). Modeling reciprocation and cooperation in primates: Evidence for a punishing strategy. Journal of Theoretical Biology, 235, 5-12.
Church, R. M. (1959). Emotional reactions of rats to the pain of others. Journal of Comparative and Physiological Psychology, 52(2), 132.
Coyte, K.Z., Schluter, J. and Foster, K.R. (2015). The ecology of the microbiome- Networks, competition, and stability. Science 350 (626) 663-666.
Crespi, B. J. (2001). The evolution of social behaviour in microorganisms. Trends in Ecology & Evolution, 16(4), 178-183.
De Waal, F. B. (2008). Putting the altruism back into altruism: The evolution of empathy. Annual Review of Psychology, 59, 279-300.
De Waal, F. B., Leimgruber, K., & Greenberg, A. R. (2008). Giving is self-rewarding for monkeys. Proceedings of the National Academy of Sciences, 105(36), 13685-13689.
Engelmann, J. M., Clift, J. B., Herrmann, E., & Tomasello, M. (2017). Social disappointment explains chimpanzees' behaviour in the inequity aversion task. Proceedings of the Royal Society - B, 284(1861), 20171502.
Engelmann, J. M., Herrmann, E., & Tomasello, M. (2015). Chimpanzees trust conspecifics to engage in low-cost reciprocity. Proceedings of the Royal Society B: Biological Sciences, 282(1801) 20142803.
Engelmann, J. M., Herrmann, E., & Tomasello, M. (2016). The effects of being watched on resource acquisition in chimpanzees and human children. Animal cognition, 19(1), 147-151.
Grueneisen, S., Duguid, S., Saur, H., & Tomasello, M. (2017). Children, chimpanzees, and bonobos adjust the visibility of their actions for cooperators and competitors. Scientific Reports, 7(1), 8504.
Hamilton, W. D. (1963). The evolution of altruistic behavior. The American Naturalist, 97, 354-356.
Harcourt, A., & de Waal, F. B. M. (Eds.). (1992). Coalitions and alliances in humans and other animals. Oxford: Oxford University Press.
Maynard Smith, J., & Price, G. R. (1973). The logic of animal conflict. Nature, 246, 15-18.
Melis, A. P., Engelmann, J. M., & Warneken, F. (2018). Chimpanzee helping is real, not a byproduct. Nature Communications, 9(1), 615.
Melis, A., & Tomasello, M. (2013). Chimpanzees' strategic helping in a collaborative task. Biology Letters, 9, 2013.
Melis, A.P., Warneken, F., Jensen, K., Schneider, A.C., Call, J., & Tomasello, M. (2011). Chimpanzees help conspecifics obtain food and non-food items. Proceedings of the Royal Society B, 278(1710), 1405-1413.
Meloni, M. (2013). Moralizing biology: The appeal and limits of the new compassionate view of nature. History of the Human Sciences 26 (3), 82-106.
Oliveira, N. M., Martinez-Garcia, E., Xavier, J., Durham, W. M., Kolter, R., Kim, W., & Foster, K. R. (2015). Biofilm formation as a response to ecological competition. PLoS Biology, 13(7).
Pande, S., Shitut, S., Freund, L., Westermann, M., Bertels, F., Colesie, C., ... & Kost, C. (2015). Metabolic cross-feeding via intercellular nanotubes among bacteria. Nature Communications, 6.
Pierce, J., & Bekoff, M. (2012). Wild justice redux: What we know about social justice in animals and why it matters. Social Justice Research, 25(2), 122-139.
Range, F., Leitner, K., & Virányi, Z. (2012). The influence of the relationship and motivation on inequity aversion in dogs. Social Justice Research, 25(2).
Sussman, R. W., Garber, P. A., & Cheverud, J. M. (2005). Importance of cooperation and affiliation in the evolution of primate sociality. American Journal of Physical Anthropology, 128(1), 84-97.
Tomasello, M., & Call, J. (2018). Thirty years of great ape gestures. Animal Cognition, 1-9.
Trivers R.L. (1971.) Evolution of reciprocal altruism. Quarterly Review of Biology, 46, 35-57.
Trivers, R. L. (1985). Social evolution. Menlo Park, California: Benjamin/ Cummings.
Warneken, F. (2013). The development of altruistic behavior: Helping in children and chimpanzees. Social Research, 80(2), 431-442.
Warneken, F. (2016). Insights into the biological foundation of human altruistic sentiments. Current Opinion in Psychology, 7, 51-56.
Warneken, F., & Tomasello, M. (2006). Altruistic helping in human infants and young chimpanzees. Science, 2006, 1301-1303.
Warneken, F., & Tomasello, M. (2009). Varieties of altruism in children and chimpanzees. Trends in Cognitive Sciences, 13(9), 397-402.
Warneken, F., Chen, F., & Tomasello, M. (2006). Cooperative activities in young children and chimpanzees. Child Development, 77 (3), 640-663.
Wolf, J. B., Howie, J. A., Parkinson, K., Gruenheit, N., Melo, D., Rozen, D., & Thompson, C. R. (2015). Fitness trade-offs result in the illusion of social success. Current Biology, 25(8), 1086-1090.
The studies linked on this page are accessible via the researchers' websites and other public domain sources. If not linked, those studies are only available via academic journals.