La moralité n'est pas spécifique aux êtres humaines; on retrouve certaines de ses composantes chez d'autres animaux et dans les relations qu'ils entretiennent entre eux.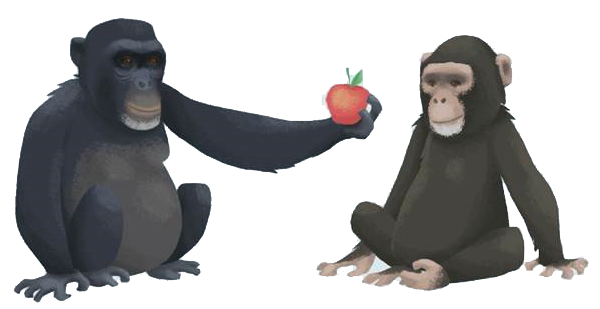 L'empathie, le sens de l'équité et de la réciprocité, entre autres comportements moraux, ont précédé l'émergence des religions humains de plusieurs milliers d'années (deWaal, 2013).
D'aucuns croient que notre espèce reçoit exclusivement la moralité de Dieu ou des dieux, est-ce vrai?
C'est une opinion à l'évidence répandue, mais les faits n'assoient pas cette croyance fausse.
Des observations des scientifiques, nous commençons à comprendre que l'humanité, les Homo sapiens, n'est qu'une espèce parmi une multitude d'autres à posséder une moralité innée. Voyez les interactions des primates non-humains. Plus de 90% de ces interactions sont affinitaires ou coopératives, plutôt que compétitives ou oppositionnelles. 
Voici d'autres exemples de comportements moraux:
Les singes diane s'aident les uns les autres pour trouver de la nourriture.
Un troupeau d'éléphants ouvre un grillage pour libérer des antilopes.
Un chat, Libby, aide un vieux chien aveugle, Cashew, à éviter les obstacles et à trouver de la nourriture.
Un rat de laboratoire refuse d'actionner un levier quand il voit que cela électrocute un autre rat.

Comme l'a fait remarquer l'éthologue Marc Bekoff en parlant des humains « nous ne sommes pas les seuls occupants de l'arène morale ».
La coopération, ainsi que l'aide et les soins apportés aux autres ne sont pas des traits spécifiques à l'espèce humaine, acquis grâce à des textes sacrés ou des divinités. Notre plus proche cousin, le chimpanzé (avec qui nous partageons 98% de nos gènes) manifeste aussi de telles caractéristiques. De telles qualités sont essentielles à notre lignée phylogénétique ancestrale. Elles ont même été observées dans des branches de l'arbre évolutionnaire bien plus éloignées de nous. 
| | | | |
| --- | --- | --- | --- |
| | Enoncé n°1 | Enoncé n°3 | |
Références
Aureli, F., & de Waal, F. B. M. (Eds.). (2000). Natural conflict resolution. Berkeley: University of California Press. 
Axelrod, R., & Hamilton, W. (1981). The evolution of cooperation. Science, 211, 1390-1396.
Brosnan, S. F., & de Waal, F. B. M. (2003). Monkeys reject unequal pay. Nature, 425, 297–299.
Burkart, J. M., Bruegger, R. K., & van Schaik, C. P. (2018). Evolutionary origins of morality: Insights from nonhuman primates. Frontiers in Sociology, 3, 17.
Chen, K. & Hauser, M.D. (2005). Modeling reciprocation and cooperation in primates: Evidence for a punishing strategy. Journal of Theoretical Biology, 235, 5-12.
Church, R. M. (1959). Emotional reactions of rats to the pain of others. Journal of Comparative and Physiological Psychology, 52(2), 132.
Coyte, K.Z., Schluter, J. and Foster, K.R. (2015). The ecology of the microbiome- Networks, competition, and stability. Science 350 (626) 663-666.
Crespi, B. J. (2001). The evolution of social behaviour in microorganisms. Trends in Ecology & Evolution, 16(4), 178-183.
De Waal, F. B. (2008). Putting the altruism back into altruism: The evolution of empathy. Annual Review of Psychology, 59, 279-300.
De Waal, F. B., Leimgruber, K., & Greenberg, A. R. (2008). Giving is self-rewarding for monkeys. Proceedings of the National Academy of Sciences, 105(36), 13685-13689.
Engelmann, J. M., Clift, J. B., Herrmann, E., & Tomasello, M. (2017). Social disappointment explains chimpanzees' behaviour in the inequity aversion task. Proceedings of the Royal Society - B, 284(1861), 20171502.
Engelmann, J. M., Herrmann, E., & Tomasello, M. (2015). Chimpanzees trust conspecifics to engage in low-cost reciprocity. Proceedings of the Royal Society B: Biological Sciences, 282(1801) 20142803.
Engelmann, J. M., Herrmann, E., & Tomasello, M. (2016). The effects of being watched on resource acquisition in chimpanzees and human children. Animal cognition, 19(1), 147-151.
Grueneisen, S., Duguid, S., Saur, H., & Tomasello, M. (2017). Children, chimpanzees, and bonobos adjust the visibility of their actions for cooperators and competitors. Scientific Reports, 7(1), 8504.
Hamilton, W. D. (1963). The evolution of altruistic behavior. The American Naturalist, 97, 354-356.
Harcourt, A., & de Waal, F. B. M. (Eds.). (1992). Coalitions and alliances in humans and other animals. Oxford: Oxford University Press.
Maynard Smith, J., & Price, G. R. (1973). The logic of animal conflict. Nature, 246, 15-18.
Melis, A. P., Engelmann, J. M., & Warneken, F. (2018). Chimpanzee helping is real, not a byproduct. Nature Communications, 9(1), 615.
Melis, A., & Tomasello, M. (2013). Chimpanzees' strategic helping in a collaborative task. Biology Letters, 9, 2013.
Melis, A.P., Warneken, F., Jensen, K., Schneider, A.C., Call, J., & Tomasello, M. (2011). Chimpanzees help conspecifics obtain food and non-food items. Proceedings of the Royal Society B, 278(1710), 1405-1413.
Meloni, M. (2013). Moralizing biology: The appeal and limits of the new compassionate view of nature. History of the Human Sciences 26 (3), 82-106.
Monsó, S., Benz-Schwarzburg, J., & Bremhorst, A. (2018). Animal morality: What it means and why it matters. The Journal of Ethics, 1-28.
Oliveira, N. M., Martinez-Garcia, E., Xavier, J., Durham, W. M., Kolter, R., Kim, W., & Foster, K. R. (2015). Biofilm formation as a response to ecological competition. PLoS Biology, 13(7).
Pande, S., Shitut, S., Freund, L., Westermann, M., Bertels, F., Colesie, C., ... & Kost, C. (2015). Metabolic cross-feeding via intercellular nanotubes among bacteria. Nature Communications, 6.
Pierce, J., & Bekoff, M. (2012). Wild justice redux: What we know about social justice in animals and why it matters. Social Justice Research, 25(2), 122-139.
Range, F., Leitner, K., & Virányi, Z. (2012). The influence of the relationship and motivation on inequity aversion in dogs. Social Justice Research, 25(2).
Rosati, A. G., DiNicola, L. M., & Buckholtz, J. W. (2018). Chimpanzee cooperation is fast and independent from self-control. Psychological Science, 29(11), 1832-1845.
Suchak, M., Watzek, J., Quarles, L. F., & de Waal, F. B. (2018). Novice chimpanzees cooperate successfully in the presence of experts, but may have limited understanding of the task. Animal Cognition, 21(1), 87-98.
Sussman, R. W., Garber, P. A., & Cheverud, J. M. (2005). Importance of cooperation and affiliation in the evolution of primate sociality. American Journal of Physical Anthropology, 128(1), 84-97.
Tomasello, Michael. (2018). Precís of a natural history of human morality. Philosophical Psychology, 31, 661-668.
Tomasello, M., & Call, J. (2018). Thirty years of great ape gestures. Animal Cognition, 1-9.
Trivers R.L. (1971.) Evolution of reciprocal altruism. Quarterly Review of Biology, 46, 35-57.
Trivers, R. L. (1985). Social evolution. Menlo Park, California: Benjamin/ Cummings.
Warneken, F. (2013). The development of altruistic behavior: Helping in children and chimpanzees. Social Research, 80(2), 431-442.
Warneken, F. (2016). Insights into the biological foundation of human altruistic sentiments. Current Opinion in Psychology, 7, 51-56.
Warneken, F., & Tomasello, M. (2006). Altruistic helping in human infants and young chimpanzees. Science, 2006, 1301-1303.
Warneken, F., & Tomasello, M. (2009). Varieties of altruism in children and chimpanzees. Trends in Cognitive Sciences, 13(9), 397-402.
Warneken, F., Chen, F., & Tomasello, M. (2006). Cooperative activities in young children and chimpanzees. Child Development, 77 (3), 640-663.
Wolf, J. B., Howie, J. A., Parkinson, K., Gruenheit, N., Melo, D., Rozen, D., & Thompson, C. R. (2015). Fitness trade-offs result in the illusion of social success. Current Biology, 25(8), 1086-1090.
The studies linked on this page are accessible via the researchers' websites and other public domain sources. If not linked, those studies are only available via academic journals.