Moral ist nicht auf den Menschen beschränkt, sondern lässt sich auch in den Beziehungen zwischen Tieren erkennen.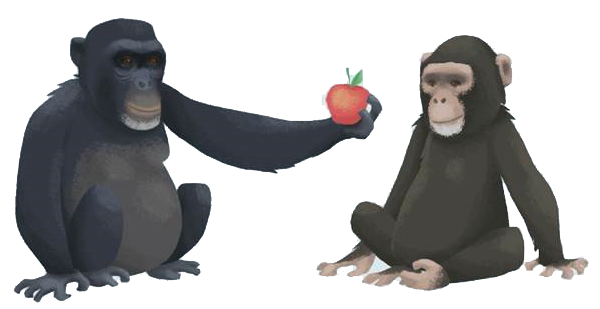 Einfühlungsvermögen, Gerechtigkeit, Gegenseitigkeit und andere von der Moral bestimmte Verhaltensweisen sind Jahrtausende älter als menschliche Religionen (deWaal, 2013).
Viele glauben, dass nur unsere Spezies die Moral von Gott oder Göttern empfangen hat. Ist das wirklich so?
Diese Ansicht wird von vielen geteilt, aber die Tatsachen widersprechen diesem falschen Glauben.
Durch die Befunde von Wissenschaftlern beginnen wir zu verstehen, dass der Mensch, Homo sapiens, nur eine unter vielen Gattungen ist, die eine angeborene Moral besitzen.[1][2] Z. B. bei den Menschenaffen sind über 90% der Interaktionen verbindend und kooperativ, anstatt wetteifernd und entzweiend.[3]
Andere Beispiele für moralisches Verhalten sind [4]:
Diana-Meerkatzen helfen sich gegenseitig bei der Futtersuche.
Eine Elefantenherde hilft eingeschlossenen Antilopen das Gatter der Umzäunung zu öffnen, damit sie entkommen können.
Die Katze Libby führt ihren betagten, blinden und tauben Hundefreund Cashew zum Fressen um Hindernisse herum.
Eine Ratte im Käfig weigert sich einen Hebel zu drücken, der Nahrung freigibt, wenn eine andere…Ratte zu sehen ist, die davon einen Elektroschock erhält.

Der bekannte Verhaltensforscher Marc Bekoff konstatiert: "Menschen sind nicht die einzigen Teilnehmer in der moralischen Arena."[5]
Hilfsbereitschaft, Zusammenarbeit und Fürsorge sind keine ausschliesslichen Eigenschaften des Menschen, die diese angeblich von Gottheiten oder durch heilige Schriften erworben haben. Unsere engsten Verwandten, die Schimpansen (die 98% der Gene mit Menschen teilen), besitzen diese Eigenschaften auch. Diese sind zentrale Qualitäten der gemeinsamen stammesgeschichtlichen Entwicklung unserer Vorfahren. Sie treten sogar in Gattungen  auf, die weit von unserem Zweig der Evolution entfernt sind.[6][7]
| | | | |
| --- | --- | --- | --- |
| | Aussage 1 | Aussage 3 | |
Verweise
Aureli, F., & de Waal, F. B. M. (Eds.). (2000). Natural conflict resolution. Berkeley: University of California Press. 
Axelrod, R., & Hamilton, W. (1981). The evolution of cooperation. Science, 211, 1390-1396.
Brosnan, S. F., & de Waal, F. B. M. (2003). Monkeys reject unequal pay. Nature, 425, 297–299.
Burkart, J. M., Bruegger, R. K., & van Schaik, C. P. (2018). Evolutionary origins of morality: Insights from nonhuman primates. Frontiers in Sociology, 3, 17.
Chen, K. & Hauser, M.D. (2005). Modeling reciprocation and cooperation in primates: Evidence for a punishing strategy. Journal of Theoretical Biology, 235, 5-12.
Church, R. M. (1959). Emotional reactions of rats to the pain of others. Journal of Comparative and Physiological Psychology, 52(2), 132.
Coyte, K.Z., Schluter, J. and Foster, K.R. (2015). The ecology of the microbiome- Networks, competition, and stability. Science 350 (626) 663-666.
Crespi, B. J. (2001). The evolution of social behaviour in microorganisms. Trends in Ecology & Evolution, 16(4), 178-183.
De Waal, F. B. (2008). Putting the altruism back into altruism: The evolution of empathy. Annual Review of Psychology, 59, 279-300.
De Waal, F. B., Leimgruber, K., & Greenberg, A. R. (2008). Giving is self-rewarding for monkeys. Proceedings of the National Academy of Sciences, 105(36), 13685-13689.
Engelmann, J. M., Clift, J. B., Herrmann, E., & Tomasello, M. (2017). Social disappointment explains chimpanzees' behaviour in the inequity aversion task. Proceedings of the Royal Society - B, 284(1861), 20171502.
Engelmann, J. M., Herrmann, E., & Tomasello, M. (2015). Chimpanzees trust conspecifics to engage in low-cost reciprocity. Proceedings of the Royal Society B: Biological Sciences, 282(1801) 20142803.
Engelmann, J. M., Herrmann, E., & Tomasello, M. (2016). The effects of being watched on resource acquisition in chimpanzees and human children. Animal cognition, 19(1), 147-151.
Grueneisen, S., Duguid, S., Saur, H., & Tomasello, M. (2017). Children, chimpanzees, and bonobos adjust the visibility of their actions for cooperators and competitors. Scientific Reports, 7(1), 8504.
Hamilton, W. D. (1963). The evolution of altruistic behavior. The American Naturalist, 97, 354-356.
Harcourt, A., & de Waal, F. B. M. (Eds.). (1992). Coalitions and alliances in humans and other animals. Oxford: Oxford University Press.
Maynard Smith, J., & Price, G. R. (1973). The logic of animal conflict. Nature, 246, 15-18.
Melis, A. P., Engelmann, J. M., & Warneken, F. (2018). Chimpanzee helping is real, not a byproduct. Nature Communications, 9(1), 615.
Melis, A., & Tomasello, M. (2013). Chimpanzees' strategic helping in a collaborative task. Biology Letters, 9, 2013.
Melis, A.P., Warneken, F., Jensen, K., Schneider, A.C., Call, J., & Tomasello, M. (2011). Chimpanzees help conspecifics obtain food and non-food items. Proceedings of the Royal Society B, 278(1710), 1405-1413.
Meloni, M. (2013). Moralizing biology: The appeal and limits of the new compassionate view of nature. History of the Human Sciences 26 (3), 82-106.
Monsó, S., Benz-Schwarzburg, J., & Bremhorst, A. (2018). Animal morality: What it means and why it matters. The Journal of Ethics, 1-28.
Oliveira, N. M., Martinez-Garcia, E., Xavier, J., Durham, W. M., Kolter, R., Kim, W., & Foster, K. R. (2015). Biofilm formation as a response to ecological competition. PLoS Biology, 13(7).
Pande, S., Shitut, S., Freund, L., Westermann, M., Bertels, F., Colesie, C., ... & Kost, C. (2015). Metabolic cross-feeding via intercellular nanotubes among bacteria. Nature Communications, 6.
Pierce, J., & Bekoff, M. (2012). Wild justice redux: What we know about social justice in animals and why it matters. Social Justice Research, 25(2), 122-139.
Range, F., Leitner, K., & Virányi, Z. (2012). The influence of the relationship and motivation on inequity aversion in dogs. Social Justice Research, 25(2).
Rosati, A. G., DiNicola, L. M., & Buckholtz, J. W. (2018). Chimpanzee cooperation is fast and independent from self-control. Psychological Science, 29(11), 1832-1845.
Suchak, M., Watzek, J., Quarles, L. F., & de Waal, F. B. (2018). Novice chimpanzees cooperate successfully in the presence of experts, but may have limited understanding of the task. Animal Cognition, 21(1), 87-98.
Sussman, R. W., Garber, P. A., & Cheverud, J. M. (2005). Importance of cooperation and affiliation in the evolution of primate sociality. American Journal of Physical Anthropology, 128(1), 84-97.
Tomasello, Michael. (2018). Precís of a natural history of human morality. Philosophical Psychology, 31, 661-668.
Tomasello, M., & Call, J. (2018). Thirty years of great ape gestures. Animal Cognition, 1-9.
Trivers R.L. (1971.) Evolution of reciprocal altruism. Quarterly Review of Biology, 46, 35-57.
Trivers, R. L. (1985). Social evolution. Menlo Park, California: Benjamin/ Cummings.
Warneken, F. (2013). The development of altruistic behavior: Helping in children and chimpanzees. Social Research, 80(2), 431-442.
Warneken, F. (2016). Insights into the biological foundation of human altruistic sentiments. Current Opinion in Psychology, 7, 51-56.
Warneken, F., & Tomasello, M. (2006). Altruistic helping in human infants and young chimpanzees. Science, 2006, 1301-1303.
Warneken, F., & Tomasello, M. (2009). Varieties of altruism in children and chimpanzees. Trends in Cognitive Sciences, 13(9), 397-402.
Warneken, F., Chen, F., & Tomasello, M. (2006). Cooperative activities in young children and chimpanzees. Child Development, 77 (3), 640-663.
Wolf, J. B., Howie, J. A., Parkinson, K., Gruenheit, N., Melo, D., Rozen, D., & Thompson, C. R. (2015). Fitness trade-offs result in the illusion of social success. Current Biology, 25(8), 1086-1090.
The studies linked on this page are accessible via the researchers' websites and other public domain sources. If not linked, those studies are only available via academic journals.