Moral förekommer inte enbart bland människor; inslag av moral förekommer bland andra djur-relationer.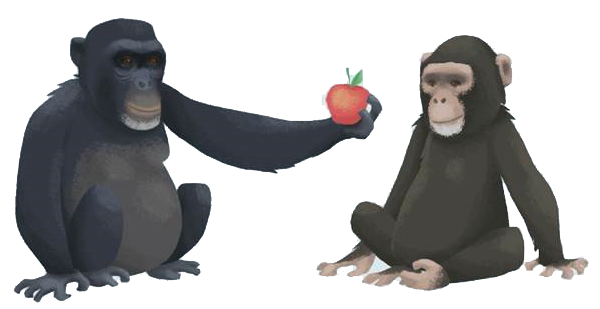 Empati, rättvisa, ömsesidighet och andra moraliska beteenden föregår framträdandet av mänskliga religioner med tusentals år (deWaal, 2013).
Många tror att vår art uteslutande erhåller moral från Gud eller gudar. Är det verkligen så?
Förvisso är denna uppfattning allmänt omfattad. Emellertid, fakta stödjer inte denna felaktiga föreställning.
Utifrån vetenskapliga observationer börjar vi inse att mänskligheten, Homo sapiens, är bara en art bland otaliga andra som medfött besitter moral. Tänk på det sociala samspelet mellan icke-mänskliga primater. Mer än 90 procent av detta samspel är kontaktbetonat och samverkande, snarare än konkurrensbetonat eller söndrande.
Några andra exempel på moraliskt uppförande:
Diana-apor hjälper varandra med att skaffa mat.
En elefanthjord låser upp en grind i en inhägnad för att hjälpa instängda antiloper att rymma.
En katt vid namn Libby leder sin gamla, döva och blinda hundkompis Cashew undan hinder och till föda.
En råtta i en bur vägrar att trycka på en spak för föda när den ser att en annan råtta får en elektrisk stöt som följd.

Som den välkände etologen Marc Bekoff påpekar om människor, "Vi är inte de enda innevånarna på den moraliska arenan."
Hjälpande, samarbete och omsorg är inte egenskaper som uteslutande finns hos människor erhållna genom heliga texter eller gudomar. Våra närmaste släktingar bland primaterna, chimpanserna (som delar 98% av våra gener), uppvisar också dessa särdrag. Sådana egenskaper är centrala för ett gemensamt, från evolutionen kommande, fylogenetiskt arv. De har observerats även hos arter på grenar som är långt ifrån oss på det evolutionära trädet.
| | | | |
| --- | --- | --- | --- |
| | Påstående 1 | Påstående 3 | |
Referenser
Aureli, F., & de Waal, F. B. M. (Eds.). (2000). Natural conflict resolution. Berkeley: University of California Press. 
Axelrod, R., & Hamilton, W. (1981). The evolution of cooperation. Science, 211, 1390-1396.
Brosnan, S. F., & de Waal, F. B. M. (2003). Monkeys reject unequal pay. Nature, 425, 297–299.
Burkart, J. M., Bruegger, R. K., & van Schaik, C. P. (2018). Evolutionary origins of morality: Insights from nonhuman primates. Frontiers in Sociology, 3, 17.
Chen, K. & Hauser, M.D. (2005). Modeling reciprocation and cooperation in primates: Evidence for a punishing strategy. Journal of Theoretical Biology, 235, 5-12.
Church, R. M. (1959). Emotional reactions of rats to the pain of others. Journal of Comparative and Physiological Psychology, 52(2), 132.
Coyte, K.Z., Schluter, J. and Foster, K.R. (2015). The ecology of the microbiome- Networks, competition, and stability. Science 350 (626) 663-666.
Crespi, B. J. (2001). The evolution of social behaviour in microorganisms. Trends in Ecology & Evolution, 16(4), 178-183.
De Waal, F. B. (2008). Putting the altruism back into altruism: The evolution of empathy. Annual Review of Psychology, 59, 279-300.
De Waal, F. B., Leimgruber, K., & Greenberg, A. R. (2008). Giving is self-rewarding for monkeys. Proceedings of the National Academy of Sciences, 105(36), 13685-13689.
Engelmann, J. M., Clift, J. B., Herrmann, E., & Tomasello, M. (2017). Social disappointment explains chimpanzees' behaviour in the inequity aversion task. Proceedings of the Royal Society - B, 284(1861), 20171502.
Engelmann, J. M., Herrmann, E., & Tomasello, M. (2015). Chimpanzees trust conspecifics to engage in low-cost reciprocity. Proceedings of the Royal Society B: Biological Sciences, 282(1801) 20142803.
Engelmann, J. M., Herrmann, E., & Tomasello, M. (2016). The effects of being watched on resource acquisition in chimpanzees and human children. Animal cognition, 19(1), 147-151.
Grueneisen, S., Duguid, S., Saur, H., & Tomasello, M. (2017). Children, chimpanzees, and bonobos adjust the visibility of their actions for cooperators and competitors. Scientific Reports, 7(1), 8504.
Hamilton, W. D. (1963). The evolution of altruistic behavior. The American Naturalist, 97, 354-356.
Harcourt, A., & de Waal, F. B. M. (Eds.). (1992). Coalitions and alliances in humans and other animals. Oxford: Oxford University Press.
Maynard Smith, J., & Price, G. R. (1973). The logic of animal conflict. Nature, 246, 15-18.
Melis, A. P., Engelmann, J. M., & Warneken, F. (2018). Chimpanzee helping is real, not a byproduct. Nature Communications, 9(1), 615.
Melis, A., & Tomasello, M. (2013). Chimpanzees' strategic helping in a collaborative task. Biology Letters, 9, 2013.
Melis, A.P., Warneken, F., Jensen, K., Schneider, A.C., Call, J., & Tomasello, M. (2011). Chimpanzees help conspecifics obtain food and non-food items. Proceedings of the Royal Society B, 278(1710), 1405-1413.
Meloni, M. (2013). Moralizing biology: The appeal and limits of the new compassionate view of nature. History of the Human Sciences 26 (3), 82-106.
Monsó, S., Benz-Schwarzburg, J., & Bremhorst, A. (2018). Animal morality: What it means and why it matters. The Journal of Ethics, 1-28.
Oliveira, N. M., Martinez-Garcia, E., Xavier, J., Durham, W. M., Kolter, R., Kim, W., & Foster, K. R. (2015). Biofilm formation as a response to ecological competition. PLoS Biology, 13(7).
Pande, S., Shitut, S., Freund, L., Westermann, M., Bertels, F., Colesie, C., ... & Kost, C. (2015). Metabolic cross-feeding via intercellular nanotubes among bacteria. Nature Communications, 6.
Pierce, J., & Bekoff, M. (2012). Wild justice redux: What we know about social justice in animals and why it matters. Social Justice Research, 25(2), 122-139.
Range, F., Leitner, K., & Virányi, Z. (2012). The influence of the relationship and motivation on inequity aversion in dogs. Social Justice Research, 25(2).
Rosati, A. G., DiNicola, L. M., & Buckholtz, J. W. (2018). Chimpanzee cooperation is fast and independent from self-control. Psychological Science, 29(11), 1832-1845.
Suchak, M., Watzek, J., Quarles, L. F., & de Waal, F. B. (2018). Novice chimpanzees cooperate successfully in the presence of experts, but may have limited understanding of the task. Animal Cognition, 21(1), 87-98.
Sussman, R. W., Garber, P. A., & Cheverud, J. M. (2005). Importance of cooperation and affiliation in the evolution of primate sociality. American Journal of Physical Anthropology, 128(1), 84-97.
Tomasello, Michael. (2018). Precís of a natural history of human morality. Philosophical Psychology, 31, 661-668.
Tomasello, M., & Call, J. (2018). Thirty years of great ape gestures. Animal Cognition, 1-9.
Trivers R.L. (1971.) Evolution of reciprocal altruism. Quarterly Review of Biology, 46, 35-57.
Trivers, R. L. (1985). Social evolution. Menlo Park, California: Benjamin/ Cummings.
Warneken, F. (2013). The development of altruistic behavior: Helping in children and chimpanzees. Social Research, 80(2), 431-442.
Warneken, F. (2016). Insights into the biological foundation of human altruistic sentiments. Current Opinion in Psychology, 7, 51-56.
Warneken, F., & Tomasello, M. (2006). Altruistic helping in human infants and young chimpanzees. Science, 2006, 1301-1303.
Warneken, F., & Tomasello, M. (2009). Varieties of altruism in children and chimpanzees. Trends in Cognitive Sciences, 13(9), 397-402.
Warneken, F., Chen, F., & Tomasello, M. (2006). Cooperative activities in young children and chimpanzees. Child Development, 77 (3), 640-663.
Wolf, J. B., Howie, J. A., Parkinson, K., Gruenheit, N., Melo, D., Rozen, D., & Thompson, C. R. (2015). Fitness trade-offs result in the illusion of social success. Current Biology, 25(8), 1086-1090.
The studies linked on this page are accessible via the researchers' websites and other public domain sources. If not linked, those studies are only available via academic journals.